PROFILE
The VENTIX GmbH manufactures degasification-systems for packagings. Based on our European patent (No. EP 0519168), we produce degasification valves made of sintered high-density polyethylene (HDPE) for bottles, jerrycans, drums and Intermediate Bulk Containers (IBC's). An outstanding advantage of our valve systems is that they have a hydrophobic and oleophobic effect.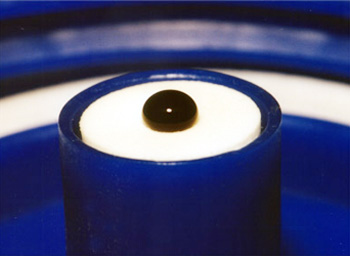 Drop of Ethanol (alcohol – organic) stands on the VENTIX VALVE "like a ball". (Impregnation)

This prevents any leakages from the valve system, even if the relevant packaging is turned upside down. At the same time, our system ensures extremely high degasification-rates, which are especially necessary in the case of decomposing hazardous substances, such as inorganic and organic peroxides, chlorine bleaching or similar chemicals.

VENTIX valve systems are extremely robust. Scratches and other mechanical damage to the surface do not affect the reliability of the valve functions.
All VENTIX products are also available with approval for food-contact (EU legislation and FDA ).

As leading manufacturers of packaging materials appreciate these advantages of the VENTIX venting-systems, they use them successfully all over the world.